Make Up For Ever:
Mat Velvet + Matifying Foundation
Springy, 21. Feb. 2018
I quite like this foundation. It had a good coverage. Makes my skin look velvety, but I couldn't find a tone ...

read more
DIY Sleep Balm
1/4 cup of shea butter, 1/4 cup of coconut oil, 1/4 cup of beewax , 6-10 drops of lavender oil or frankincense oil
Melt these ingredients in stainless steel pan, and melt the ingredient...
read more
Hair Repair Masks
1 organic whole egg and 1-2 tbsp organic coconut oil
Beat the egg properly and add the coconut oil to it. Apply this mixtu...
read more
xxxxxxxxxxx FEBRUARY GIVEAWAY xxxxxxxxxxxxx Win a nail polish kit. How? read further. 1/Follow us at Twitter and RT(retweet)any of our tweets. 2/ If you are already following us, you can enter our free giveaway only by retweets. Retweet, what you like. You only need to add #giveaway in your retweet. 3/ If you are NEW, you MUST FOLLOW US and Retweet. In this case, you must fulfill both conditions to be eligible to win. 4/ Prize is Red Nail Polish by Calvin Klein, Nail Polish Remover, Nail Art Pen in Light Pink, Nail Stickers and Bronze Makeup bag. Total value $59. 5/ At last day of contest we randomly choose 1 winner. Go and tweet and price is yours. 6/ Giveaway ends 02/28/2017.
x
Achieve your puckering potential with this lip moisturizer that blends nourishing shea and cocoa butters with sweet tasting organic orange and vanilla for organic, kissable lips. A Daily Essential for all skin types. USDA Organic Lip Moisturizer. For more information about the product or to buy, please click at the picture.
Save 16%. Stand up to skin-damaging pollution with a serum that defends skin against environmental aggressors. Give a chance to Bliss Triple oxygen radiant protection energizing serum. Revitalizes skin function, evens skin tone. Softens fine lines and wrinkles. Supercharges skin's natural defenses for a healthy, glowing, youthful complexion. For more information or to buy, please click at the picture.
HYDRO BIOTIC RECOVERY SLEEPING MASK - a deeply hydrating recovery sleeping mask that balances skin's naturally-occurring flora and locks in moisture overnight to hydrate, reduce redness, and soothe signs of irritation. Skin wakes up with a natural glow, looking and feeling refresh, soothed, nourished, and hydrated. For more information, or to buy, please click at the picture.
NEW superstar on the market! Gentle yet potent light reflecting, age fighting eye cream for all skin types looking to smooth lines, hydrate and illuminate the eye contour. Illuminates the eye contour, helps smooth away lines, helps reduce moisture loss.For more information or to buy, please click at the picture.
For super clean complexion start using WONDERFEEL DOUBLE CLEANSER by Ole Henriksen. Gently removes longwear and waterproof makeup, deeply cleanses and hydrates. Removes makeup and cleanses skin in one easy step. The classic cold cream is elevated to the ultimate spa indulgence for even the most dry and sensitive skin. Cold creams have been used for centuries to remove makeup, but this formula makes all others ancient history with its innovative lightweight texture and skin-soothing hydration. For more information about product or to buy, please click at the picture.
SAVE 29%!!! Lancome Absolu Voyage Complete Make-Up Palette. Lancome Absolu Voyage Complete Make-Up Palette Includes: 1 Virtuose Mascara - Black, 1 Lip Contour Pencil - Rose Tea, 1 Khol Pencil for Eye - Black, 1 Blush Subtil, 1 Poudre Majeur Compact Powder, 1 Concealer - 02 Beige Clair, 4 Ombre Absolue Powder Eye Shadows, 1 Color Focus Powder Eye Shadow, 1 Color Design Powder Eye Shadow, 3 L'Absolu Rouge Solid Lip Color. For more information or to buy, please click at the picture. Thank you.
Need some bronzing power? Try Super-concentrated booster liquids made with certified organic ingredients and vibrant, plant-derived pigments to customize your dewy glow with either a pearlescent or sun-kissed finish. Like magic in a tube, the Juice Boosts are lightweight, coconut and moringa-infused formulas that can be applied to skin directly or added into any Juice Beauty foundation, primer or moisturizer for a universally flattering glow. Try both Juice Boosts in Illuminating and Bronzing for $45 ($50 value)! For more information or to buy, please click at the picture. Thank you.
This is NEW miracle eye cream. Nutri-Define Eye Contour Balm. Eye Contour Balm has been specifically crafted to address the multiple signs of ageing, and rejuvenate your entire eye contour. Enriched with our breakthrough, patent-pending Biosome5 technology, our ultra-rich eye balm helps replenish, tone and firm the eye area. It targets deep lines, crow's feet and sagging skin to make eyes appear firmer, more youthful and beautifully smooth. For a great price and more information, please click at the picture.
NEW hit!! A moment for yourself to rebalance your mind and body with any of Aromatherapy Associates 10 natural and luxurious bath & shower oils. Whether you struggle to fall asleep at night or wake up in the morning, just need to unwind or need an emotional uplift, there is an oil for every need. For more information or to buy, please click at the picture.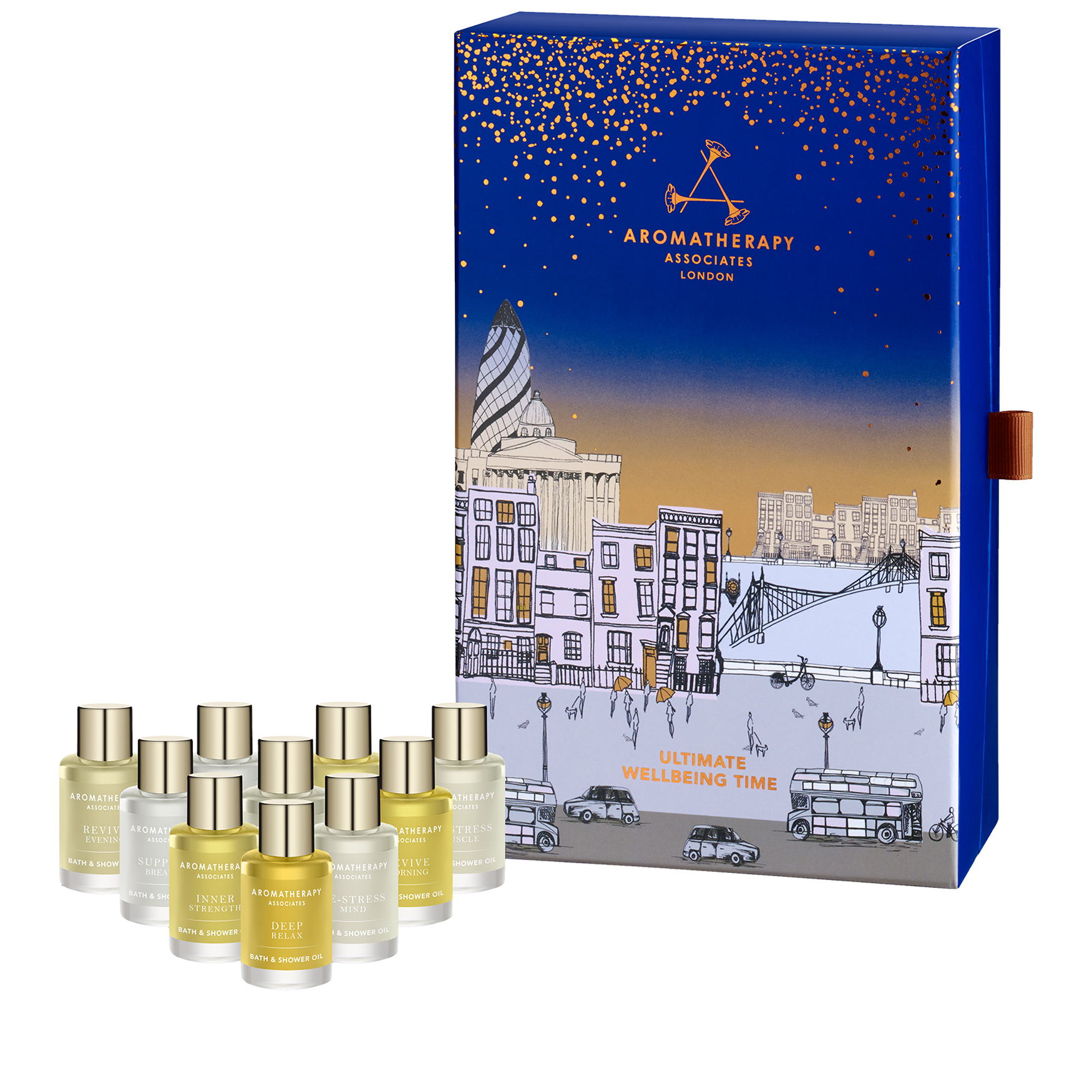 Gift for men or women - Mojito Bar Set. Individual, pure vegetable-based soaps of natural peppermint, lime and rum, boxed in iconic graphic packaging for a refreshing mojito ensemble. Like all of our products, this pairing is a symbolic balance between natural and technological ingredients. Makes a wonderful holiday gift. For more information or to buy, please click at the picture.
We just love, love, this super mask! MAGNETIGHT AGE DEFIER. HARNESS THE POWER OF ATTRACTION. Combining the healing powers of the ancient past with forward-thinking technology, dr. brandt® skincare brings to fruition another industry game-changer. Leveraging the power of magnetic attraction, this ahead-of-the-curve breakthrough mask helps counter the effects of stress and environmental damage as it simultaneously recharges and rejuvenates the skin. Iron magnetic particles draw out toxins and daily residue, while aromatherapeutic lavender soothes the senses. Black tourmaline, a powerful mystic stone known as one of nature's most energizing minerals, is ground into the finest powder to neutralize negative energy and boost positivity, rendering skin radiant. For more information and price, please click at the picture.
SUNDAY RILEY Bright Young Thing Kit. You will get an AMAZING RESULTS! Fight the appearance of dark spots and discolorations and discover instant, clear-skin radiance with three advanced, complimentary technologies: lactic acid, Vitamin C, and alpha arbutin. Bright Young Thing immediately gives the skin a vibrant, healthy-looking glow thanks to award-winning, best-selling trio of Good Genes Lactic Acid Treatment, CEO Rapid Flash Brightening Serum, and Tidal Brightening Enzyme Water Cream. For more information or to buy, please click at the picture.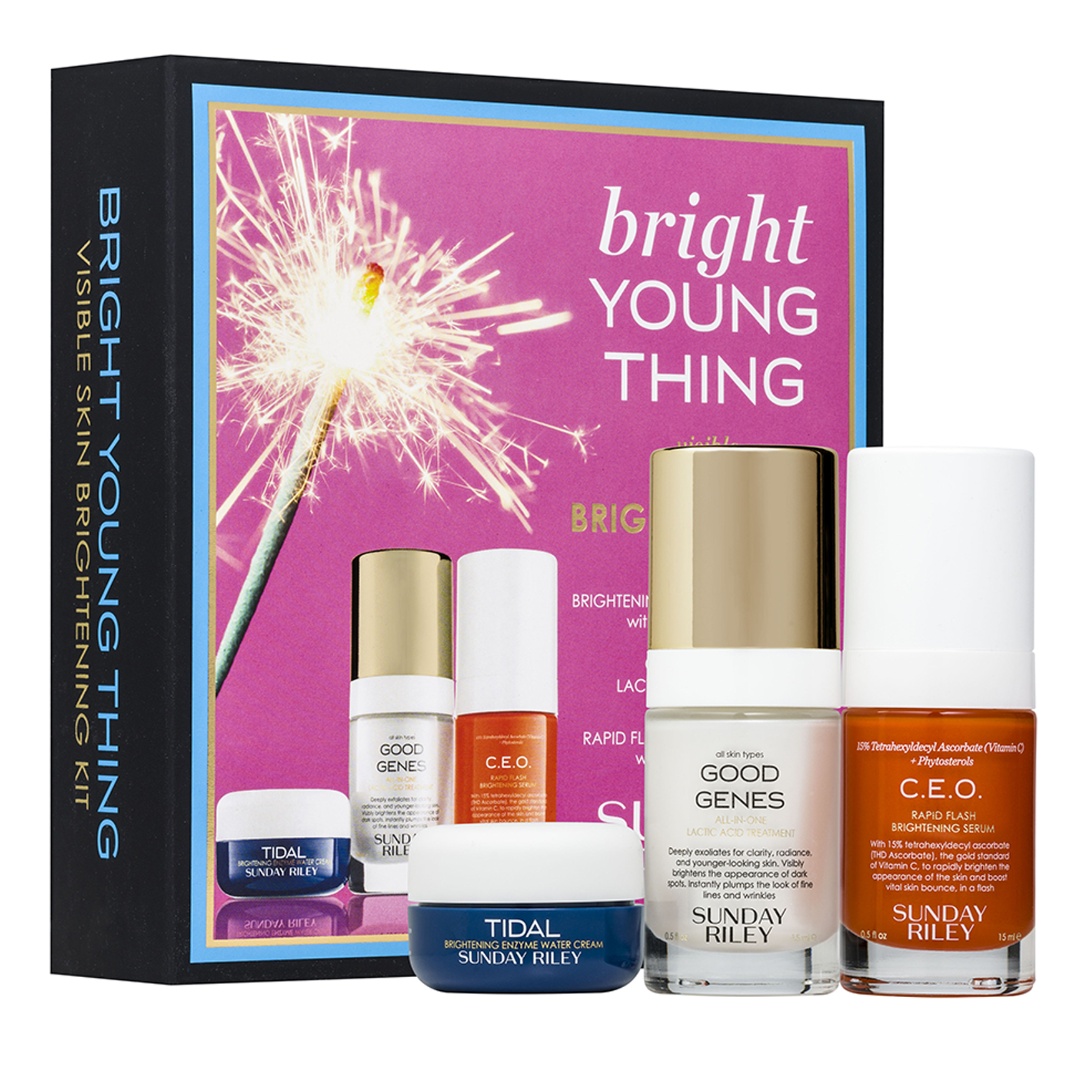 38% Off of Yves Saint Laurent Forever Youth Liberator Creme SPF 15. A cream which protects skin from daily sun exposure and is suitable for normal to dry skin. It expertly combines a filtering system with an enjoyably rich, creamy texture which glides onto skin with extreme comfort. Bursting with a moisturizing agent and with mirror-effect micro-shimmer particles, this SPF 15 cream leaves the skin looking radiant and supple as soon as it is applied. It also offers anti-wrinkle lift and hydrates the skin. For more info about product or to buy, please click at the picture.